Venue:
Champakulam, about 26 km from Alappuzha
How to Reach:
Nearest railway station-Alappuzha (26 km), Nearest airport- Cochin (85 km).
Highlights:
Spectacular water floats, decorated boats, Vanchipattu (song of the oarsmen)
Champakulam Moolam Boat Race This boat race is the oldest and most popular vallam kali (snake boat race) in Kerala state of south India. The race is held on the river Pampa on Moolam day (according to the Malayalam Era M.E) of the Malayalam month Midhunam, the day of the installation of the deity at the Ambalappuzha Sree Krishna Temple.
Introduction:
Kerala is well-known for its water bodies that take the form of canals, backwaters and rivers. And there are regions in Kerala, where water dominates life of those living in its vicinity. The southern district of Alappuzha is one such region in Kerala that takes the credit of having a great amount of area under water. Some of the rivers rising in the highlands of the Western Ghats, flow down to join the vast stretches of backwaters and canals that crisscross the heart of Alappuzha and the nearby region of Kottayam.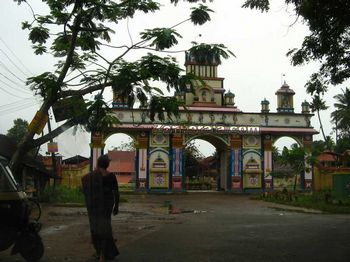 Ambalappuzha Sree Krishna Temple
In 1613 A.D., sixty-three years after the idol was given shelter at Mappilassery, the old house was being demolished and a new one being built. Raja Devanarayanan's successor heard the news and immediately sent word to Itty Thommen's son, Kunhi Thommen that the area where the idol was kept, which was considered a 'devasthanam ' or sacred place, was to be specially demarcated and used only as a place of worship. Also, in keeping with Hindu practices, no menstruating women were to enter the room. A special lamp, made of rare metals, was given to the family, to be kept in this holy place, and perpetually burning, as an eternal flame. Special privileges were also conferred on the family, including the grant of lands and coconut groves to supply the oil for the lamp.
Even today, these practices continue. The lamp is kept perpetually burning. Every year priests and other delegates from the temple call at the house on Moolam day, with gifts and prasadam for the karanavar or head of the house. This ceremony is known as the Moolakazcha.It is believed that on Moolam Day, Lord Krishna resides not at the Temple, but at Mappilassery House! Reverentially,on unshod feet,the Temple delegates enter the prayer room, where along with Christian icons like the cross, and statues of Jesus and Mary, the lamp, known as the Vazhakoombu Vilakku is given a place of prominence. The temple representatives then venerate the lamp, and are treated by the family to a sumptuous feast. It is only after all these ceremonies, that the famous Champakulam Snake Boat Race commences.